Investment Banking Manager ( version Fr)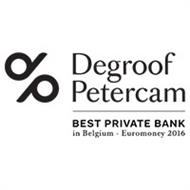 Company name
Banque Degroof Petercam s.a./n.v.
Place
Bruxelles Brussel
Belgium
The Job / Responsibilities :
L'activité Corporate Finance est exercée au travers de Degroof Petercam Corporate Finance, filiale de la Banque Degroof Petercam. Degroof Petercam Corporate Finance couvre l'ensemble des services de conseil et d'ingénierie financière auxquels les entreprises ou leurs actionnaires font appel pour assurer leur croissance et leur développement.

Votre position:

- Vous assistez les "Investment Banking Directors" au développement commercial en cherchant de nouvelles opportunités dans le marché. Vous les aidez à développer des solutions optimales, sur mesure et créatives.
- Vous assurez l'exécution des dossiers sous mandat : fusions et acquisitions, levées de fonds (actions, dettes ou produits hybrides, IPO,…). Ces missions impliquent des contacts à haut niveau avec la direction de l'entreprise et avec les partenaires professionnels (avocats, reviseurs, fiscalistes, …).
- Vous dirigez, supervisez et contrôlez les activités des Associates/Analysts en fonction des priorités et compétences de chacun.
Your profile :
- Vous avez un Master (de type Sciences Economiques Appliquées, Ingénieur de Gestion, Ingénieur Civil ou Droit complétées par une formation financière). Un MBA ou Master complémentaire constitue un atout ;
- Vous avez au moins 5 ans d'expérience relevante ;
- Vous êtes doté d'une bonne capacité d'organisation (gestion de projet) et d'un excellent sens commercial développé;
- Vous disposez d'excellentes aptitudes analytiques et de synthèse ;
- Vous disposez de qualités rédactionnelles et de présentation orale ;
- Vous êtes flexible, pro-actif et avez l'esprit d'initiative ;
- Vous êtes bilingue français/néerlandais avec des bonnes connaissances de l'anglais.


We offer :
Vous rejoignez une équipe corporate finance belge dynamique et réputée combinant une expertise approfondie à une connaissance forte de son marché.



(Kindly make reference to Banking Boulevard when applying for this position).
(Bedankt om naar Banking Boulevard te verwijzen als u solliciteert).
(Merci de bien vouloir faire référence au site-emploi Banking Boulevard lors de votre sollicitation).