Private Equity Associate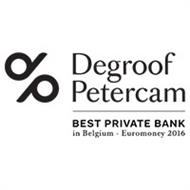 Company name
Banque Degroof Petercam s.a./n.v.
Place
Brussel Bruxelles
Belgium
Our Company :
Headquartered in Brussels, we employ 1400 talented professionals through offices in Belgium, Luxemburg, France, Switzerland, Spain, the Netherlands, Germany, Italy and Hong Kong. We are proud to manage over 50 billion euro assets for private investors and families, corporates, public and corporate pension funds, insurance companies, governmental and non-profit organizations.

Our clients benefit from the best in-class services through the unique combination of private banking, institutional asset management, investment banking (corporate finance and financial intermediation) and asset services. Our employees are offered an exciting career path either as expert, manager or a combination of both.

As part of our continuous development, we are currently looking for a Private Equity Associate to reinforce our Private Equity team in Brussels. The PE Associate will work on a variety of assignments, with technical as well as commercial aspects. Our small team structure allows each individual to work closely with senior professionals on a daily basis and to rapidly become an integral part of our PE team. This will quickly translate in significant impact and increased responsibility.
The Job / Responsibilities :
- Active involvement in the set-up of new PE fund structures, including financial, tax, legal and regulatory aspects
- Analysis and selection of PE funds, active in a number of core PE strategies such as buy-out, co-investment and secondaries.
- Management of an internal PE database focused on fundraising activity and performance, using in-house research, market information and external data providers
- Creation and update of commercial presentations on PE for internal and external purposes
- Participation to private placement of new PE solutions to clients and prospects in coordination with Belgium, Luxembourg and France
Your profile :
- You have strong analytical and numerical skills
- You have good communication skills, both verbally and in writing
- You have an excellent academic background (master degree in (applied) economics, business engineering)
- You have a first professional experience in an analytical function within the financial sector, consultancy or audit (previous experience in investment banking or asset management is a strong advantage)
- You have a strong client-oriented mindset
- You enjoy working in a team setting
- You are committed to excellence and willing to maintain high professional standards
- You are fluent in French, Dutch and English (native or bilingual proficiency in Dutch is a strong advantage)
We offer :
By working for Bank Degroof Petercam, you will join a Belgian bank of a human size where personal contacts prevail.

As from the start, you work with colleagues from various business lines and have direct impact on our private, institutional or corporate clients.

We strongly invest in the development of your talent by offering you a variety of in-house finance-specialized and management training as well as external programs. Looking for a long term relationship not only with our clients but also with you as employee, we offer you an attractive salary package, including a performance related bonus, extra-legal benefits and a variety of in-house finance-specialized and management training as well as external programs.


(Kindly make reference to Banking Boulevard when applying for this position).