PRIVATE BANKER FOR SENIOR EXECUTIVES AND PROFESSIONALS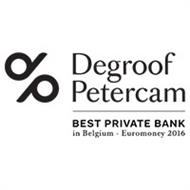 Company name
Banque Degroof Petercam s.a./n.v.
Place
Bruxelles Brussel
Belgium
Our Company :
Bank Degroof Petercam is a reference independent financial institution, serving private, institutional investors and organizations, based on a history dating back to 1871. Headquartered in Brussels, we employ 1 400 professionals through offices in Belgium, Luxemburg, France, Switzerland, Spain, The Netherlands, Germany, Italy and Hong Kong.

Our clients benefit from best in-class services through the unique combination of private banking, institutional asset management, investment banking (corporate finance and financial intermediation) and asset services. We manage assets of over 50 billion euro for private investors and families, corporates, public and corporate pension funds, insurance companies, governmental and non-profit organizations.
As part of the continuous development of our private banking activities, we are looking for a Private Banker for Senior Executives and Professionals.
The Job / Responsibilities :
- You will contribute to the growth of our private banking activities, with a specific focus on the 'professional wealth' client segment i.e. you will participate to the business development strategy by identifying and targeting the senior executives from multinationals and professional services firms (law firms, audit and consultancy) and offer them tailor-made investment services.
- You are in charge of carrying out an in-depth analysis of the personal wealth situation and objectives of this client segment, providing advice on their wealth planning needs and proposing tailor-made solutions and services. To do this, you can rely on the expertise of our multidisciplinary teams in the field of analysis of stock option plans, estate planning, investment services, structuring management companies etc.
- You aspire to create long term, sustainable and trustworthy client relationships.
Your profile :
- You have a master degree in (applied) economics, business engineering or law.
- You can look back upon at least 5 years of experience in the financial services sector (private banking, audit or management consultancy).
- You have a successful track record or a genuine interest in private banking/investment services. A solid understanding of stock option plans is a plus and/or you have strong analytical and numerical skills.
- You have solid business development and relationship building skills, an entrepreneurial mindset and excellent communication skills, both verbally and in writing.
- You understand the dynamics of transversal collaboration.
- You are committed to excellence and willing to maintain high professional standards.
- You are bi-lingual Dutch-French with an excellent command of English..
We offer :
By working for our group, you will join a Belgian family-rooted business with 140 years of sound experience and 1400 talented professionals, that combines in-depth expertise with a strong collective knowledge at the service of our clients.

We are behind those who have the ambition to move forward: beginning or established investors, entrepreneurs, institutions, companies and our staff. We believe that words like independence, cooperation, customer focus, ethics, sustainability and entrepreneurship are not just words. As from the start, you work with colleagues from various business lines and have direct impact on our private, institutional or corporate clients.

We think that it is not the size of a company that makes it great, but its human values and the accessibility of its people. We strongly invest in the development of your talent by offering you a variety of in-house finance-specialized and management training as well as external programs. Looking for a long term relationship not only with our clients but also with you as employee, we offer you an attractive salary package, including a performance related bonus, extra-legal benefits and a variety of in-house finance-specialized and management training as well as external programs.

(Kindly make reference to Banking Boulevard when applying for this position).
(Bedankt om naar Banking Boulevard te verwijzen als u solliciteert).
(Merci de bien vouloir faire référence au site-emploi Banking Boulevard lors de votre sollicitation).