Head of Request for Proposal (Institutional Asset Management)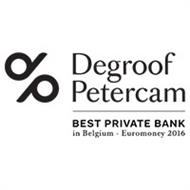 Company name
Banque Degroof Petercam s.a./n.v.
Place
Brussel Bruxelles
Belgium
The Job / Responsibilities :
Context:

In order to strengthen the further development of the RFP team within Institutional Asset Management we are looking for a new colleague.

The Head of the Request for Proposal Team is providing support together with his team of 3 professionals to the relationship managers of the domestic and international sales team by completing request for proposals / tenders /due diligences for institutional clients (distributors, pension funds, public institutions, insurers, …). This requires a critical analysis of textual descriptions and financial data on Degroof Petercam Institutional Asset Management strategies and expertise.

Your position:

- You steer the team and have a good working relationship with the Institutional Sales Department;
- In addition, you are the interface between the Sales and Marketing Team and coordinate the different projects with the other departments as Portfolio Management, Research teams, Risk Management, and in this way contribute to a constructive collaboration;
- You are in charge of answering the requests for proposals for institutional clients;
- You are in charge of the centralisation and coordination of the financial data;
- You are contributing to and maintaining a library of FAQ;
- You follow up and control the financial argumentation for publication and coordinate to have the correct information's of the different authors;
- Your team is in charge of updating different external databases from consultants with financial information: complete with quantitative information, description of investment processes and maintain efficient contacts with data providers.
Your profile :
- You are able to steer a small team of professionals;
- You are bilingual (spoken and written) in French/English or Dutch/English and have very good written/editing skills especially in English. Knowledge of another European language (fi Italian, German) is an asset;
- You obtained a Master degree and you have experience in a similar function in asset management, fund services or investments products;
- You have experience in project coordination and process optimisation within this field or related field of expertise;
- You have a good knowledge of Microsoft Excel, Word and PowerPoint (DataStream and Bloomberg is an asset);
- You have a great interest in the financial industry, a demonstrable understanding of financial terminology and products;
- You have an analytical mind and you like working with figures and statistics;
- You are autonomous, have a strong team spirit and contribute to the success of a dynamic and ambitious team;
- You are well organised and can deal with strict deadlines;
- You are a good communicator, assertive and proactive, and stress resistant;
- You like to work in a dynamic and challenging environment with a strive for perfection.
We offer :
By working for our group, you will join an independent Belgian family-rooted business with 140 years of sound experience, more than 1400 talents, that combines in-depth expertise with a strong collective knowledge at the service of our clients.
We are behind those who have the ambition to move forward: beginning or established investors, entrepreneurs, institutions, companies and our staff. We believe that words like independence, cooperation, customer focus, ethics, sustainability and entrepreneurship are not just words.

We think that it is not the size of a company that makes it great, but its human values and the accessibility of its people. We are committed to invest in our people and in the best workplace in order to attract and retain top talent and to produce the best work.


(Kindly make reference to Banking Boulevard when applying for this position).
(Bedankt om naar Banking Boulevard te verwijzen als u solliciteert).
(Merci de bien vouloir faire référence au site-emploi Banking Boulevard lors de votre sollicitation).