Credit Advisor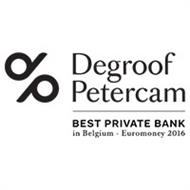 Company name
Banque Degroof Petercam s.a./n.v.
Place
Brussel Bruxelles
Belgium
Our Company :
In close collaboration with Private Banking, you will be part of the Credit & Structured Finance department.

Your function will be a good mix between the technical and commercial dimension, managing client relationships and analysing all aspects of the credit demand.

Moreover, you will be in touch with fiscal, legal and risk management aspects in order to serve your clients on an efficient way. Therefore, you will collaborate with the different experts in-house.
The Job / Responsibilities :
- Meet clients on your own or with relationship managers for any credit demand, identify their needs in order to provide them with best suited financing solutions;
- Analyse all aspects of a client's credit demand, evaluate the risk and provide a recommendation to the Credit Committee;
- Take actively part of the Credit Committee, support the credit demand you recommend and participate in the decision process;
- Communicate credit decisions to clients/relationship managers, motivate and negotiate credit terms with clients, prepare legal contracts and ensure the effective granting of the loan;
- Perform an active risk monitoring of the credits you are in charge of, in accordance with the bank's credit Policy. Undertake the necessary measures when needed to ensure the quality of the credit portfolio;
- Ensure the client's follow up throughout the life of the credits with regular contacts.
Your profile :
- You hold a Master in finance, economics and/or in law with a financial background or experience
- You have 5 years of experience in a financial function. The Credit Analyst function requires strong analytical skills and ability to adapt to various areas.
- You are fluent in French and Dutch with a good knowledge of English
- You are team player with an entrepreneurial attitude and high ethical standards
- You take initiative, are pro-active and have the ability to work independently
- You have a client-oriented attitude, motivation and negotiating skills
- You have strong analytical skills and a well-developed curiosity
We offer :
By working for Bank Degroof Petercam, you will join a Belgian bank of a human size where personal contacts prevail.

As from the start, you work with colleagues from various business lines and have direct impact on our private, institutional or corporate clients.

We strongly invest in the development of your talent by offering you a variety of in-house finance-specialized and management training as well as external programs. Looking for a long term relationship not only with our clients but also with you as employee, we offer you an attractive salary package, including a performance related bonus, extra-legal benefits and a variety of in-house finance-specialized and management training as well as external programs.



(Kindly make reference to Banking Boulevard when applying for this position).
(Bedankt om naar Banking Boulevard te verwijzen als u solliciteert).
(Merci de bien vouloir faire référence au site-emploi Banking Boulevard lors de votre sollicitation).