Private Banker Région Bruxelles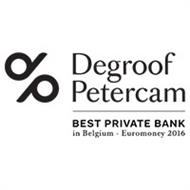 Company name
Banque Degroof Petercam s.a./n.v.
Place
Brussel Bruxelles
Belgium
The Job / Responsibilities :
Dans le cadre de l'ambition de la banque de faire croître sa part de marché en Private Banking, Banque Degroof Petercam cherche à renforcer ses équipes dans son siège de Bruxelles.

Votre position:

- Vous contribuez au développement de l'activité Private Banking dans la région de Bruxelles par de la prospection active et du networking dans le segment des entrepreneurs, professions libérales, ou de clients « High Net Worth ».
- Votre mission consiste à les aider à faire une analyse de leur situation et leurs objectifs personnels, les accompagner dans leur planification financière et les conseiller en fonction de leur situation individuelle. Pour cela vous pouvez faire appel aux services spécialisés et l'expertise technique de la banque (estate planning, corporate finance, structured credits, ….)
- Vous établissez une relation de confiance privilégiée et à long terme, pour la gestion de leur patrimoine mobilier.
Your profile :
- Vous êtes titulaire d'un diplôme universitaire (ou avez une expérience équivalente) complété par une expérience commerciale probante de minimum 10 ans dans le milieu financier (gestion de patrimoine, produits financiers, conseil patrimonial, family office).
- Vous avez des compétences démontrées ou un intérêt réel pour la gestion de fortune, la structuration patrimoniale, les produits financiers.
- Vous disposez d'un réseau existant ou potentiel dans la région de Bruxelles.
- Vous êtes francophone, parlant couramment le néerlandais , avec des notions d'anglais.
- Vous avez un talent naturel pour développer du business, une excellente communication et la capacité de maintenir des relations durables à haut niveau (e.g. dirigeants d'entreprises, familles fortunées, notaires, réviseurs,…).
We offer :
Chez Banque Degroof Petercam, vous rejoindrez une banque où la priorité est donnée aux contacts humains. Que vous soyez directement ou indirectement au service de nos clients, vous travaillerez dès le premier jour avec des collègues de différentes branches d'activité et vous aurez un impact sur nos clients particuliers, institutionnels ou corporate.

Notre statut d'institution financière indépendante est intéressant à la fois pour nos clients et pour vous en tant que collaborateur. Pour maintenir notre "incomparable" niveau d'expertise, nous investissons résolument dans le développement de votre talent par de nombreuses formations specialisées, en management, en intern ou en extern.

Afin de construire avec vous, comme avec notre clientèle, une relation à long terme, nous vous offrons un salaire attractif incluant un bonus lié aux performances et des avantages extra-légaux.


(Kindly make reference to Banking Boulevard when applying for this position).
(Bedankt om naar Banking Boulevard te verwijzen als u solliciteert).
(Merci de bien vouloir faire référence au site-emploi Banking Boulevard lors de votre sollicitation).