Head of General Accounting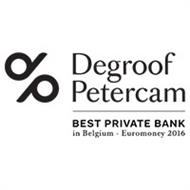 Ragione sociale della società
Banque Degroof Petercam s.a./n.v.
Place
Brussel Bruxelles
Belgio
Descrizione della funzione :
Reporting to the CFO, the Head of General Accounting will lead the accounting team towards end responsibility for all accounting operations and activities for the Belgian entities in order to contribute to an optimal financial management of the Bank.

Your position:

- Together with your team, you establish and follow up income statements and balances and conduct all accounting and bookkeeping operations for the Bank and other Belgian legal entities;
- You provide advice to a.o. Board of Directors, Executive Committee and propose solutions for complex accounting problems;
- You provide a solid basis for the planning and steering of operations in order to ensure that the accounts reflect the correct status of the organization;
- You ensure the consolidation of financial statements of the Business Units and different entities of the Bank;
- You supervise and control timely, accurate and complete annual reporting on tax returns and VAT in order to ensure compliance with tax regulations;
- You perform regular analysis and reporting for the Executive Committee and the Board of Directors on the financial situation of the legal entities in scope in order to allow them to take appropriate decisions;
- You establish and maintain streamlined end-to-end accounts payable processes in collaboration with the CFO and other departments;
- Initiate the necessary actions to realize target spending model for accounting and accounts payable in terms of systems, processes and organization;As people manager, you will:
- Coach and develop your team members in order to efficiently deploy competences, skills and know-how and to function as a harmonious and results oriented team;
- Coordinate and organize the activities of the team in line with priorities, available resources and competences; you define and optimize procedures and workflow processes;
- Ensure and coordinate the implementation and use of the appropriate tools to work as efficient as possible;
- Define objectives (team level as well as individual level) for and with the team in order to evaluate the team and its performance;
- Take actively part in the recruitment of new employees in order to build a performant team;
- Share knowledge and ensure back-up for his / her function in order to guarantee continuity of the department and its services;
- Keep abreast of all evolutions in his / her domain of expertise, ensure that he / she and the team members keep abreast of all changing regulations and develop his / her own expertise in order to reinforce his / her credibility and ensure that the organization is in line with existing accounting regulations and legislation;
Requisiti :
- You have at least a bachelor degree in accounting with an additional degree in tax;
- You can look back upon at least 10 years of experience in accounting of which at least 3 to 5 years you were successfully leading a team;
- Having experience in the financial sector is an asset but is not considered as a must;
- You are perfectly bilingual Dutch-French with good knowledge of English;
- You are an excellent people manager with leadership skills;
- You are agile and have proven experience in guiding teams through challenging times of change and migration;
- Next to being an accounting expert and leader, you have also the right skill set and experience for leading projects;
- You have an analytical and constructively critical mindset;
- You have strong interrelational skills and have the ability to translate figures into clear and practical advice and reports for internal and external stakeholders;
- It is in your nature to continuously strive towards more efficiency and more quality and you communicate constructively on your ideas and suggestions.
- You take initiative, are pro-active and have the ability to take decisions with strong impact.
Si offre :
By working for Bank Degroof Petercam, you will join a Belgian bank of a human size where personal contacts prevail.

As from the start, you work with colleagues from various business lines and have direct impact on our private, institutional or corporate clients.

We strongly invest in the development of your talent by offering you a variety of in-house finance-specialized and management training as well as external programs. Looking for a long term relationship not only with our clients but also with you as employee, we offer you an attractive salary package, including a performance related bonus, extra-legal benefits and a variety of in-house finance-specialized and management training as well as external programs.


(Kindly make reference to Banking Boulevard when applying for this position).
(Bedankt om naar Banking Boulevard te verwijzen als u solliciteert).
(Merci de bien vouloir faire référence au site-emploi Banking Boulevard lors de votre sollicitation).